Clax Folding Cart
9321021
Available


For materials handling in stores, schools, hospitals, service and office areas.


Can be collapsed quickly and easily at the push of a button.


Has two large platforms, supplied with one collapsible storage box.


Has many useful features such as foot brake, holding device for boxes, upward folding load platform and removable wheels for space-saving storage.


Made of injection moulded plastic and aluminium for long service.


Supplied standard with one basket.


Dimensions(mm) 890L x 550W x 1030H, Top Tray - 495L x 340W x 260D.


Unit Weight - 7.3kg.


Capacity - 60kg.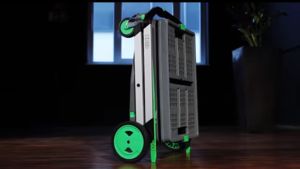 Clax Folding Cart