One hundred & eighteen...
14 January 2019
---

One hundred & eighteen...
That's how many lives were lost in Australian workplaces in 2018.
Times that by at least 200 for the amount of people immediately affected by each incident - 23,600.
That includes the partners, sons, daughters, fathers, mothers, brothers, sisters & co-workers - the people who's lives were drastically torn apart in an instant.
Lives change forever when there's an injury or death in the workplace. While the emotional cost cannot be underestimated, the financial cost to the whole Australian community is staggering – in 2012–13 work related injury and illness cost $61.8 billion. This figure includes both direct and indirect costs: workers' compensation premiums, compensation payments to injured or incapacitated workers, loss of productivity, current and future earnings, potential output, and the cost of providing social welfare programs for injured or incapacitated workers.
We all have a responsibility and duty for building a safe workplace around us, so we can all get home safe to our families. No industry should be unsafe to work in and no death or injury is acceptable. And, because the whole community bears the emotional & financial cost of poor WHS, we know that safe and healthy work benefits everyone!
The good news is that this figure is on the decrease! In 2017, the data shows there were 190 Australian workers killed at work, compared to 118 in 2018. The below table compares the top 5 most dangerous industry types over the past two years: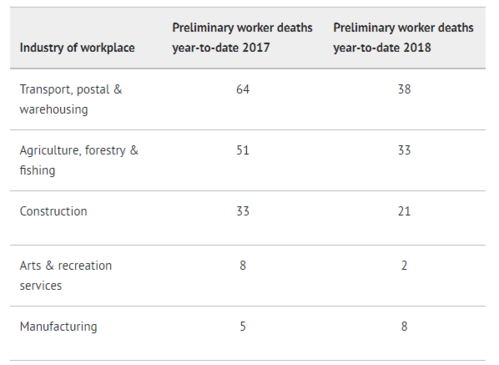 Let's make 2019 our safest year on record! Here's a simple rule to remember each time you're on the job:
Take 5 :
Stop - observe the site, take time to think about the job.
Look - look around and identify potential hazards.
Assess - the level of risk involved with the hazards.
Plan - implement suitable control measures.
Safely - complete the task safely
At SWF Group our mission is "To help you achieve safety at work first, through the dependable supply of quality, cost effective and hassle-free workplace safety solutions, specific to your workplace."
We stock a comprehensive and innovative range of Workwear, Footwear, PPE, First Aid, Corporate Clothing, Site Safety, Protective Clothing, Safety Signs and Materials Handling Equipment.
SWF Group | "Safety at Work First!"
#SafetyAtWorkFirst #WorkSafeHomeSafe #WorkplaceDanger #Workloads #Distractions #Incidents