A Moment Is All It Takes #NationalSafeWorkMonth
8 October 2018
---

The theme for this October's National Safe Work Month is "A moment is all it takes." While a safety incident can happen in a moment and in any workplace, a moment's forethought can prevent harm.
This year, commit to taking a safety moment every day in your workplace. This could be as simple as spending five minutes every morning talking with your team about the hazards and risks in your workplace, and how to prevent harm.
Check out this national fatality and injury infographic by Safe Work Australia: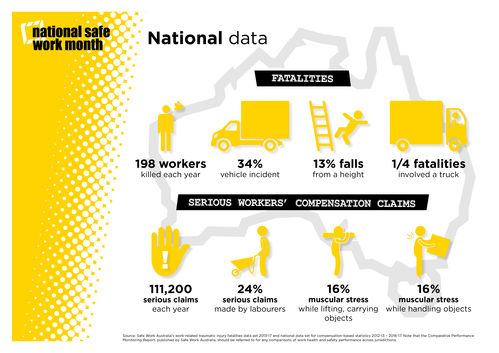 Lives change forever when there's an injury or death in the workplace. While the emotional cost cannot be underestimated, the financial cost to the whole Australian community is staggering – in 2012–13 work related injury and illness cost $61.8 billion. This figure includes both direct and indirect costs: workers' compensation premiums, compensation payments to injured or incapacitated workers, loss of productivity, current and future earnings, potential output, and the cost of providing social welfare programs for injured or incapacitated workers.
We all have a responsibility and duty for building a safe workplace around us, so we can get home safe to our families. No industry should be unsafe to work in and no death or injury is acceptable. And, because the whole community bears the financial cost of poor WHS, we know that safe and healthy work benefits everyone.

This is why, during October each year, workers and employers across Australia are encouraged to freshly commit to building safe and healthy workplaces for all Australians. Take a moment for #safety this October to raise safety awareness in your workplace.
At SWF Group our mission is "To help you achieve safety at work first, through the dependable supply of quality, cost effective and hassle-free workplace safety solutions, specific to your workplace." We stock a comprehensive and innovative range of Workwear, Footwear, PPE, First Aid, Corporate Clothing, Site Safety, Protective Clothing, Safety Signs and Materials Handling Equipment.
SWF Group | "Safety at Work First!"
#SafeWorkMonth #SafetyAtWorkFirst #MySafetyMoment